1999 STCC National Cup Finalists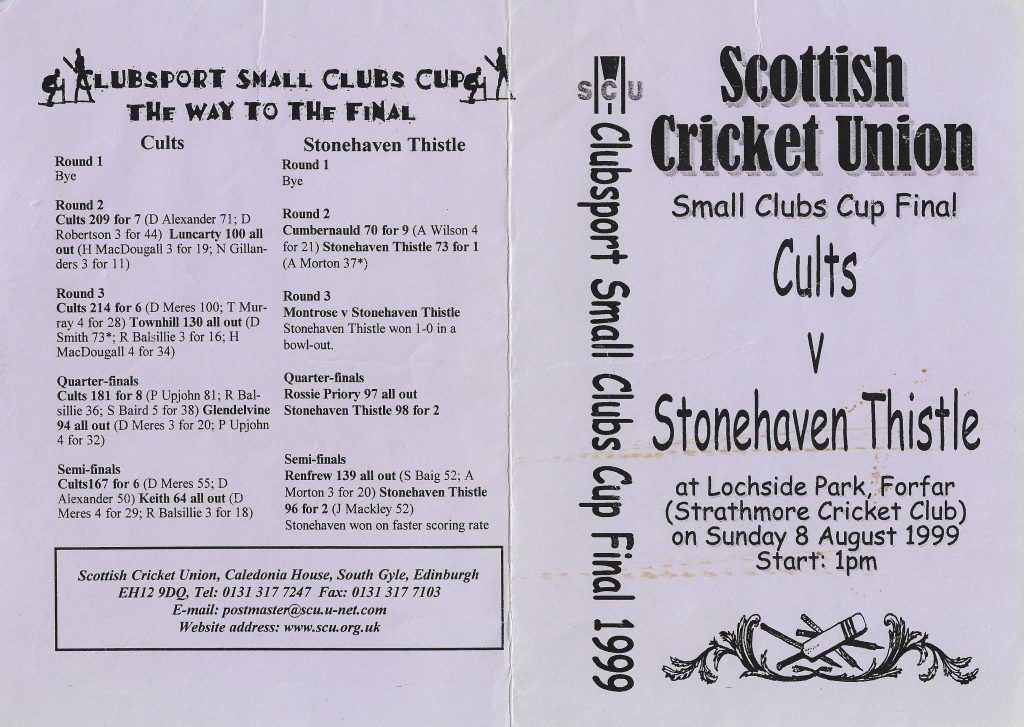 Stonehaven Thistle cricket Club as Scottish Cup Finalists. Although the outcome of the final was a bit of an anti-climax (Cults 305, Thistle 109) for just a few moments in that season the Club played the equivalent of giant-killers, overcoming Rossie Priory and Renfrew. These dizzy heights must count as one of the highlights in a long and illustrious history, ranking up there with the Double Double Season of 2001, the year the Club achieved the League and Cup double, twice in one season: Grade 2 1st XI and the Under 13 titles. They were also Under 17 Champions that season.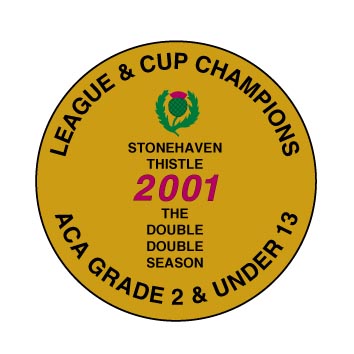 Stonehaven Thistle Cricket Club – An Illustrious Past
Arthur Bisset wrote: "The Palmy days of Stonehaven Cricket began in 1891, when the club acquired a new ground at Cowie House. Prior to this they played at Old Lodge Park, Urie upon which Mackie Academy stands. Raising over £500 from a bazaar the people of Stonehaven erected a handsome pavilion and excellent pitch in lovely surroundings that was to be the envy of many." (The field is still impressive to this day, despite the wall having been moved back to accommodate the coast road.)
Opened in 1893 the pitch was 150 yards in diameter with the pavilion on a raised bank with a fine view of the town, bay and Dunottar Castle. It had 2 changing rooms, a spacious dining hall and verandah. Among the contractors were Burness & son and James Burness. (any relations?) In the opening game Thistle beat a select side led by a Dr Anderson of Aberdeenshire, W.Walker taking 10 wickets.
The Thistle played and could defeat Aberdeenshire and touring MCC sides visited. In 1908, their Captain Palairet remarked that it was the best ground they had played on. In those days Stonehaven possessed some of the leading batsmen in the country. Alfie Wood, (a chemist by trade, and born and bred in Stonehaven) a batsmen of considerable prowess who played for Scotland and the Ritchies (of Dunottar and Netherley) and Tommy Mitchell were some of the leading players in the country. For example, one occasion versus Brechin C.C. Thistle batted first scoring 220 for 6 declared, Wood 145 not out. Brechin replied with 138 for 6.
Came the war and the Cowie Ground was ploughed up, so closing the finest chapter in the clubs history.
D.Long Snr. (STCC Inside Edge Magazine 1996)
Sources: Article in Mackie Academy F.P. magazine, 67 edition, by Arthur Bisset.
Photograph and newspaper cuttings(1893) which were presented to the club by Miss C.Walker in 1986; her father took the 10 wickets in that opening match.
1929 TO THE PRESENT DAY
After the 1st world war the lease expired and the ground at Cowie was given over to food production. Little is known of the period between the wars as names like Tony D'Agostino and Wallace Burness carried the torch until World War II. Were it not for the passion of one Arthur Bisset who resurrected the Club in 1955, there would have been no more to write about and we should thank him and others like Willie Gall and Harry Allen for their fortitude.
Having spent years wandering from ground to ground Thistle finally moved to their present location of Mineralwell Park, well known for its lively bounce, and a new Sports Pavilion was built in 1994, partly with STCC funding.
Of the modern era Alan Bisset, Arthur's son guided the club through some inglorious years to 1983. More recently since 1993, the club has achieved success; having grown to over 50 members in 1998.
The Club won the Sevens Championship and reached the Small Clubs Cup Final in 1999, won the Johnston Cup in 2000, and in 2001 the 1st XI (playing in Grade 2) and Under 13's both achieved their league and Cup doubles.
Huge efforts to improve the ground have borne fruit as Stonehaven was voted the 2nd best wicket in the NES SCIO league in 2018. Though the once lethal bounce of the wicket has been tamed, for the Club, often knocking on the door of Grade 1, this elusive prize still awaits.
A club record and opening stand of 264 for no wicket was achieved by Ashley Morton and Andrew Hinchcliffe against St Ronalds in the Aberdeenshire Cup in 2003.
TWO CAPS FOR SCOTLAND
A little more on Stonehaven's most famous player of all time, who was reputed to have represented his country. According to "Fifty years of Reminiscences of Scottish Cricket" published in (MDCCCXCVIII) Mr A. Lyon Wood of STCC and formally of Royal High School F.P's was, and I quote: "a grand bowler, and one of the steadiest batsmen in Scotland for a long time, also played in many of the big events in the capital, and took part in the Scotland V Australians in 1880, where he both bowled and batted, scoring 35 in the second innings. He also played against the Colonials on their second visit to that city, and put on 22 in the second innings." He must have been at his peak in the 1880's, it was yet a further 13 years before the inaugural match at Cowie in 1893.
Some of you may be curious of the source of this information: "The library, Lords Cricket Ground," no less. My thanks to Stephen Green, Curator at the M.C.C. Library for his sleuth and diligence in finding this snippet of information.
You lot might be enamoured to know that you are now all immortalized in the Lords Library, on account of the 1996 Inside Edge magazine being thankfully received together with photocopies of the 1893 photo. D.Long Snr. (STCC Inside Edge Magazine 1997)
THE CENTURY THAT NEVER WAS
Club records declare that the Thistle Club was established in 1872; the centenary being celebrated in 1971. However the Stonehaven Journal purports that a Stonehaven team defeated Laurencekirk at Cricket in 1858. There was also a case to be argued for the club being formed in 1867.
Certainly from 1891 to 1914 the club flourished, acquiring a new ground at Cowie, pavilion and even went so far as to employ a Cricket professional, a Mr Dramfield (Drawfield)? At least one player, Alfie Wood, played cricket for Scotland. From the time that the club shot itself in the foot providing the funds to establish Stonehaven Golf Club (our man Alfie Wood had a part to play here), the downward spiral began.
Since the First World War it has become the poor man of Stonehaven, shunted around town like an unwanted leper; back to Old Lodge Park, to Glenury, to Cowie (Baird Park), to Glenury (Mineralwell? Or did we move again).
Then there are the two World wars to consider. The fields that the club had been shunted to were ploughed up during both wars, and in both cases it was many years after wars end that the grounds were re-established: 1929 and 1955 respectively – presumably no such fate befell the Golf Club.
Therefore, depending on whether the club was born in 1858, 1867 or 1872 and depending on whether you count or discount the dormant years,1915-1929 and 1939-1955, Stonehaven Thistle Cricket Club will be 94, 99, 108, 125, 130 or 139 years old in 1997. Take your pick!
D.Long Snr. (STCC Inside Edge Magazine 1996)
GRAND OLD LADY
For years the Club had in a service a 1931 Barford and Perkins Roller acquired from Gammie's via Lathallan School. This roller has collected quite a history. Known to be of definite Vintage material, we can now trace its origins. We were told it dated back to 1932, but Gammie's have passed on the Registration Book for – get this – a Mechanically Propelled Road Vehicle, Roads Act 1920.
The Registration book contains a number of interesting facts. Originally registered on 11/3/31 as a pavement roller, Kincardine County Council, paid the princely sum of £266.00. We paid £900.00 in 1999.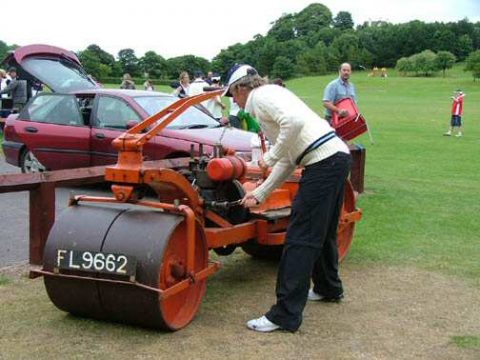 Although this is only a continuation book registration runs from 31/12/45 to 16/12/65, at which point it becomes exempt under the Road Traffic Act of 1964; an official looking stamp says; "Entries discontinued by direction of the Ministry of Transport." I wonder if it is at this point that it found its way into the hands of Lathallan School, and began a career as a wicket roller.
At any rate, a Mr E F Valentine of Marykirk has enough interest in it to correspond with the Archivist in Lincolnshire In 1989. In a reply from the Consultant Archivist in Grantham, a Mr E A Olive, writes: "The Y4. FL9662 is ref NN099 dispatched 7 April 1931 to Stonehaven. An identical Roller was dispatched the same day to Kincardine's Johnshaven station – this was reference PP001 registration FL9664. The Y4 was powered by Scott single cylinder engine no: W102. Roller weight 19 cwt 2 qr. No extras."
We all know of Lathallan Schools reluctance to dispose of the roller under direction of the Health & Safety Executive. Apparently the starter mechanism does not contain a guard, ditto the chain-drive. Anyway it's nice to see that our youngsters have taken the advice, quite literally, and stay well away from it.
So the next time you are at the helm, (it is Handle-bar driven, for those of you who have never ventured inside the McRobert Shed – and there are one or two of you – actually its probably nearer three-quarters of you) remember this is a grand old lady, with a grand old history, who does not appreciate the wheelspin through her crash-box as you throw the gear lever from forward to reverse and vice-versa. Just wait for her to stop first! (The old roller has since been replaced by a newer green monster Stothert & Pitt Vibroll 32rd Mark 1 Cricket Pitch Roller that now does a sterling job on the wicket.)
D. Long. Snr.